Find an array of hair, nail and skin services at the Trustyle Salon in the Madison College Truax Campus. All services are performed by Cosmetology program student stylists and supervised by licensed instructors.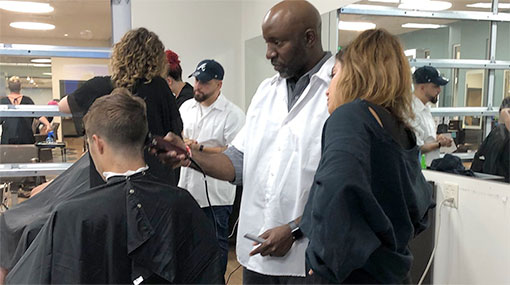 Fall 2021 Salon Hours
September 2 – October 8, 2021 | Thursday and Friday, 9 am – 3 pm
October 14 - November 19, 2021 | Thursday and Friday, 9 am – 5 pm
November 22 – December 10, 2021 | Monday through Thursday, 9 am – 5 pm
Book Your Appointment
Due to COVID-19, the Trustyle salon is by appointment only. Learn more about our health and safety plans.
Please call 608.246.6068 to book your appointment. 
Trustyle Salon at the Truax Campus
1701 Wright St. B1208L, Madison, WI
Please call if you will be more than 15 minutes late. Your appointment may need to be rescheduled.
Services and Prices
Discounted professional salon products available.
Not all services available at all times.
Prices are subject to change without notice and may be adjusted upon consultation. If you have any questions about prices, please consult with the instructor prior to your service.
Hair Styling
Roller Set $15
Shampoo/Blowout $15
Thermal Style $25 and up
Updo $20 and up
Hair Care
Bang Trim $5 and up
Beard Trim $5 and up
Clarifying Treatment $20 and up
Deep Conditioning Treatment $15 and up
Haircut /Beard trim OR Shave $13 and up
Haircut with Chemical Service over $20 N/C
Neck Trim $5 and up
Shampoo only $5 and up
Shampoo/Haircut, Head Shave $10 and up
Hair Color Services
Accent Foils (8-12 foils) $25 and up
Bleach and Tone $50 and up
Color Extra ½ Mix $7
Color Extra Mix $13
Corrective Color $55 and up
Fashion/Trend Color $60 and up
Foil Highlight/Lowlight (2 colors) $55 and up
Full Foil Highlighting or Lowlighting $42 and up
Full Foil Lowlighting $42 and up
Less than 8 foils $3 each
Permanent Color – Retouch $25 and up
Permanent Color Virgin $25 and up
Semi-Permanent Color$25 and up
Skin Care Services
Facials $25
Makeup Application $10
Eyebrow Wax $8
Lip Wax $8
Chin Wax $8
Nail Care
Manicure $15
Pedicure $25
Shellac Manicure $25
Shellac Pedicure $30
Shellac Removal $10
Polish Change $8
Paraffin Dip $8
Guarantee
All services are guaranteed. Please notify salon manager of dissatisfaction within five days of service. Service will be corrected or re-done. We cannot refund money or charges for service. Please note, not all services available at all times.