Student News
The Clarion
Athletics
Join us Jan 12-14 for the first ever virtual alternative break. Destination Wisconsin! Enrollment and participation is FREE!
12/04/2020
Changes have been made to make ordering from the bookstore go more smoothly in Spring 2021.
12/02/2020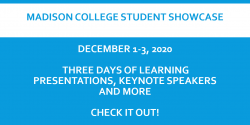 Join the online celebration of the many successes Madison College students have achieved this year, learning inside and outsid...
11/30/2020
Boh Suh, Staff Writer - Tuesday, November 24, 2020
In the NBA, trades have happened many times already as we head into the new season, with the Los Angeles Lakers being one of the busiest teams....
Hailey Griffin, Arts Editor - Tuesday, November 24, 2020
Madison College's fourth annual fashion show was a success, despite the shift to a virtual platform....
Current Students
Need help? Get answers fast.