The Gallery at Truax provides diverse experiences by exhibiting creativity, innovation, and collaboration for Madison College and its community. The gallery is an educational destination for discovery and expression, while promoting Madison College and its community.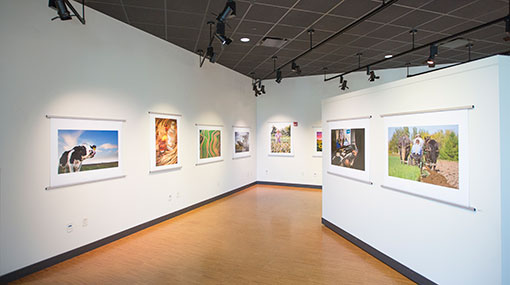 Gallery Location and Hours
1701 Wright St. A1005, Madison, WI
9/29/2022 - 12/16/2022
Monday: 9 am - 6 pm
Tuesday: 9 am - 12 pm, 3 pm - 6 pm
Wednesday: 9 am - 6 pm
Thursday: 9 am - 11 am, 3 pm- 6 pm
Friday: 10 am - 4 am
Closed on weekends
Exhibition Schedule
Valaria Tatera Blood Memories
October 17th - November 18th, 2022
Artist Talk: Wednesday, November 16th, 11:30 AM-12:30 PM
Valaria Tatera is a Wisconsin based visual artist, activist, lecturer, curator and member of the Bad River Band of Lake Superior Chippewa. Her work explores the impact of colonization on Indigenous erasure, visibility and resilience. Her intention is "for the work to hold visual and personal space for statistics that often erase the individual."
Enrichment, Creativity, Variety, Inspiration, Engagement
Virtual Exhibition
Please visit the Virtual Gallery at Truax to experience our online exhibit collection! The virtual gallery offers online adaptations of the physical exhibits and showcases work created by students in Madison College programs and other artists.