This is it: the whole reason we're here. Getting the proof that you bring valuable knowledge to an employer – and the world. That you're curious and willing to learn. And that you know how to work hard to achieve a goal.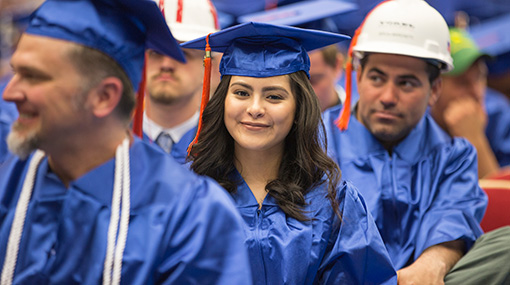 Choose your path! Some programs offer a technical diploma after the first year. Others set you up to transfer and get a bachelor's degree.
At full time, this is a one-year program. But many technical diplomas give you the flexibility of attending school part time.
Changing careers? The quickest way to gain knowledge and skills in a specific area is a certificate. Employers love these!
Want to earn while you learn? Apprenticeships combine classroom learning with on-the-job training. Find a sponsor and get paid for both.
Not ready to tackle a degree? Career Pathways stack up!
There are lots of reasons why you might not want to go for your degree all at once. But what if you could break it down into "doable chunks"? You can! Follow a Career Pathway to get your degree step by step – certificate, technical diploma, degree – building skills and a career along the way.
Stack credentials in these Career Pathways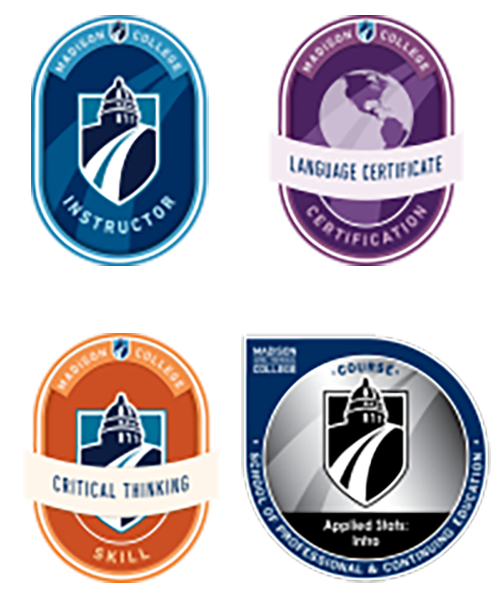 Quickest credential ever: the Digital Badge
Madison College awards Digital Badges for credit and non-credit courses. Put them on a resume or talk them up to employers. They're a great way to showcase skills within and beyond your degree.
Contracted through Credly Acclaim, all public badges can be found here.
Badges are used within our credit courses as a sign of knowledge, skill and/or ability.
Note: Badges used within our credit courses are categorized by our taxonomy system
Gain essential skills you need to get a job.
Digital badges are associated with the majority of our non-credit professional development courses.
Note: Digital badges are associated with most of our non-credit professional development courses. Badged courses can be found within the course catalog (symbol). To earn a non-credit badge, you must successfully complete the steps to earn that specific badge. You will be awarded your badge within 7-10 days of the course completion.
We take the word "community" seriously. Our job is to provide a path to smart, affordable, job-ready training for you now and in the future.