It's more than cooking. Learn the recipe for the $400 billion industry that revolves around food. Sounds delicious, right?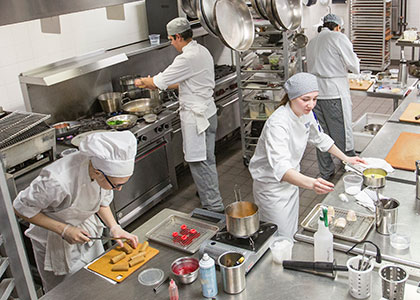 Student Satisfaction
100% of our recent graduates report they are satisfied with their Madison College education.
Employed
100% of our recent graduates got a job in the industry.
Work Local
95% of our recent graduates work in Wisconsin.
Program Number: 103161
Your Degree:
Associate Degree
Area of Study:
Culinary, Hospitality and Fitness
Estimated Time to Complete:
61 Credits | Finish degree in 2 years
Estimated Tuition
$11,854.73
$8,750.45 Tuition
$2,694.29 Materials/Supplemental Costs
$409.99 Other Costs
Your first step is to apply to Madison College. It's easy and free to apply, so get started today!
Contact the School of Business and Applied Arts
Hours
Summer Service Hours
Monday – Wednesday: 9 am - 3 pm In-Person, 8 am - 4 pm Virtual
Thursday: 8 am - 4 pm Virtual Only
Friday: 8 am - 12 pm Virtual Only