Foodservice is America's #1 retail employer. Because we need cheese and chocolate. And people to supply it 24/7.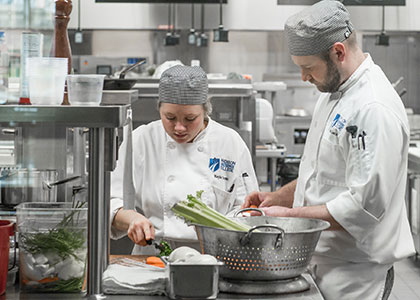 Student Satisfaction
100% of our recent graduates report they are satisfied with their Madison College education.
Employed
100% of our recent graduates got a job in the industry.
This program is designed to meet entry-level needs of the field
Culinary Production Specialist
Program Number: 313162
Your Degree:
Technical Diploma
Area of Study:
Culinary, Hospitality and Fitness
Estimated Time to Complete:
27 Credits | Finish diploma in 1.5 years
Estimated Tuition
$4,922.39
$3,873.15 Tuition
$1,049.24 Materials/Supplemental Costs
$0.00 Other Costs
Your first step is to apply to Madison College. It's easy and free to apply, so get started today!
Contact the School of Business and Applied Arts