Looking to build a career? We'll help you from the ground up. And 100% of our recent graduates are working. Big win.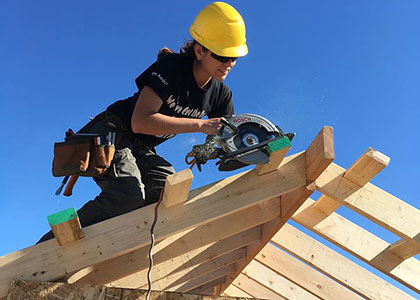 Employed
85% of our recent graduates got a job in the industry.
Student Satisfaction
99% of our recent graduates report they are satisfied with their Madison College education.
Annual Salary
Our recent graduates of this program reported an average starting salary of $39,288.
Ready to Learn More?
If you'd like to learn more about the Construction and Remodeling program, we'd love to talk with you.
We're here to answer any questions and guide you through our application process step-by-step.
Send us your contact information, and we'll help you get started right away!
Construction and Remodeling
Program Number: 314106
Your Degree:
Technical Diploma
Area of Study:
Construction, Manufacturing and Maintenance
Estimated Time to Complete:
32 Credits | Finish diploma in 1 year
Estimated Tuition
$6,017.24
$4,590.40 Tuition
$1,426.84 Materials/Supplemental Costs
$0.00 Other Costs
Your first step is to apply to Madison College. It's easy and free to apply, so get started today!
Contact the School of Technologies and Trades
Hours
Monday - Thursday: 8:00 am - 4:30 pm
Friday: 8:00 am - 4:30 pm  phone or email only