Optometric services available from Madison College.
We guarantee kindness and SAFETY as we navigate the new normal. Learn more about our health and safety plans for the fall semester.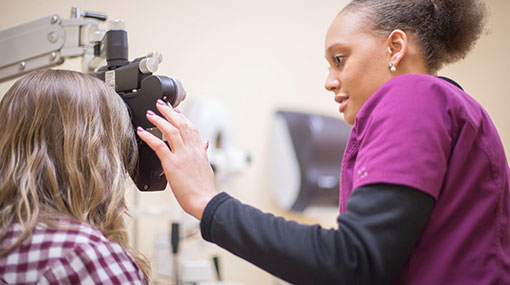 Optical Dispensary
Purchase your next pair of glasses from Madison College's Optical Dispensary.
The dispensary is operated for the purpose of educating future optometric technicians in the techniques of eyewear selection, ordering, adjustment, and repair.
Optical dispensary services are available to current Madison College students, staff and faculty, Madison College Alumni Association members and Madison College retirees.
Vision Screening Services
Free vision screenings are available for Madison College staff, students, and the public.
Screenings are performed during the spring semester by Optometric Technician students and may include:
Eye pressure test
Visual acuity measurement
Color vision test
Depth perception assessment
Pupil reflex testing
Blood pressure measurement
All tests are performed under the direct supervision of an instructor. Key findings will be given to you in written form. Your visit is not a complete eye exam. Eyeglass prescriptions will not be given.
Optical Dispensary Hours
The Optical Dispensary at Madison College will be accepting limited, pre-arranged appointments for student completion of skills.
Dispensary hours are Thursdays from 8:30 am to 12:20 pm through mid-April.
Health Education Building, Room 271
1701 Wright St., Madison, WI
Appointments
For the spring semester, the Optical Dispensary is available to Madison College faculty by appointment only. Please contact the Optical Dispensary at 608.246.6272 or optical@madisoncollege.edu for more information.
Vision Screening Services will not be offered during the 2021 spring semester. We appreciate your interest and look forward to offering Vision Screenings again next year.