Complete these steps to earn your GED/HSED. We're here to help you in person or online. 
Have a question? Call 608.243.4199 or email us hscc@madisoncollege.edu.to discuss your options!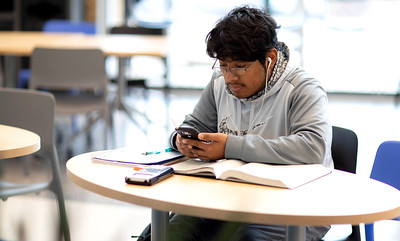 1. Welcome Session
Attend the welcome session in person or online. Sign up for a welcome session by calling 608.243.4199 or schedule your virtual welcome session online.
At the Welcome Session you will:
Receive general information about our program
Create your Madison College Username/Password
Provide one valid form of photo identification
Register for GED/HSED Intro Class
2. Complete TABE Assessment
Please allow 2.5 hours for the test.
Complete the welcome session prior to scheduling your TABE test.
Take the Test online: Schedule TABE Test (GED/HSED) You will be asked to provide your name, email, phone number and student ID#.
Take the test in-person: Attend an open testing session on Monday or Thursdays at the Goodman South Campus, Room 127. Arrive between 9-11:00 am or 2-6:00 pm to allow enough time for testing.
For questions, please contact our office at 608.243.4199 or hscc@madisoncollege.edu.
3. Demographic Information
Sign-in to your student portal Student Demographic Information
Under Communications select the "To do List" and complete the Demographic Info Form  
4. GED/HSED Intro Class
This course introduces you to the high school completion options in Wisconsin.
During this class you will:
Review GED/HSED Options in Wisconsin
Complete Career Assessment
Complete an Academic Plan
Register for Courses (if needed)
Meet with your assigned Advisor
Receive information about the Student One Card
5. Complete Employability Skills Requirements
You have two options to complete your employability skills requirement:
Complete Employability Skills 3 Curriculum at Madison College
Provide High School Transcript with a completed employability skills course
6. Testing Orientation
Please contact our office at 608.243.4199 to schedule a Testing Orientation.
Review Testing Center Rules and Regulations
Bring your ID and proof of Wisconsin Residency
Get approval for Official Exams
Receive Free Civics Voucher
7. Complete GED/HSED Testing or Coursework
Review your Academic Plan with your transition specialist, to schedule an appointment call 608.243.4199.
Log into your Blackboard account (see video for instructions)
Get Academic Support at one of our High School Completion Centers
Contact the School of Academic Advancement
Hours
Monday – Thursday: 8 am - 8 pm
Friday: 8 am - 4:30 pm
Se habla Español.