Draw out your creativity and turn it into a career.
Graphic design lets you make the most of your technical and artistic abilities.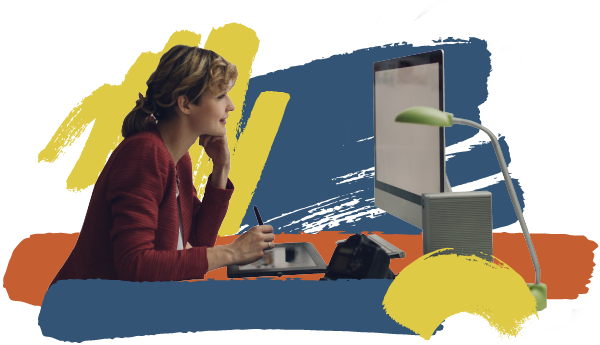 Noncredit Courses
Check out these graphic design courses for personal or professional development.
In this course, students will learn basic skills needed to function in the world of graphic and web design. Among the topics covered in this course will be design fundamentals, color theory, raster vs. vector imaging concepts, and Mac OS vs. Windows interfaces. Students will learn how Adobe Creative Cloud works and learn why they would use specific Adobe tools or their open source alternatives to solve various design problems. This course will prepare students to take the Adobe Photoshop, Illustrator, and InDesign Introduction courses.
#63672, Truax-Health Building, 2/15-3/1, Wednesday, 6-9 PM
Students will become familiar with using Adobe Lightroom to import, view and organize photos. Students will edit photos for white balance, exposure, tonal adjustments, saturation, color and how to apply various filters. Students will also learn how to create web galleries and slideshows. Intermediate-level computer skills recommended.
#63276, Online Live, 3/7-4/11, Tuesday, 6-8:30 PM
Students will explore topics such as adjusting color, adding and using layers, applying filters for different effects, dodging and burning, using gradients and cutting out sections of a picture. Intermediate-level computer skills are required.
#63311, Online Live, 3/8-4/5, Wednesday, 6-9 PM
Students will further explore Photoshop with the use of masking, blending, effects, adjustment layers and type to create exciting digital compositions while gaining proficiency using keyboard shortcuts and improve workflow skills.
#63310, Online Live, 4/12-5/10, Wednesday, 6-9 PM
Vector images play an important role in the creative process and provide the best format for logos and illustrations. In this course, you will learn the basics of creating beautiful vector images, gain an understanding of anchor points and paths, and then select, edit and manipulate them using the selection tools and modifier keys. Topics include becoming familiar with workspaces, working with objects, creating and saving swatches, and formatting text. You also will gain experience using the shape, transform, paintbrush and pen tools to create logos, backgrounds and simple illustrations.
#63275, Online Live, 2/28-3/28, Tuesday, 6-9 PM
In this course students will continue to explore the drawing and design capabilities of Adobe Illustrator to create layouts and more complex vector illustrations. Hands-on exercises will help build upon the skills learned in the Illustrator Intro course. Learners will be introduced to working with layers, the pathfinder panel, adding effects, and managing appearance attributes. In all, this course will reinforce the necessary knowledge and skills needed for working with vector paths.
#63274, Online Live, 4/4-5/2, Tuesday, 6-9 PM
Three Ways to Register for Noncredit Courses
1. Register by Phone
2. Express Registration
3. Log into MyMadisonCollege
Professional Development Courses
Professional Graphic Design Certificate
This digital credential will help you build on your existing computer skills and strengthen your know-how about both print design and digital documents.  If you are a professional who already knows the basics of graphic design, this certificate will help you take your skills to the next level.

Online Course
Check out this 100% online, instructor-led, self-paced study on your own schedule professional development course in partnership with ed2go.
Are you interested in Graphic Design? Does visually appealing media catch your attention? If you are ready to take your art to the digital realm, this course is for you. Design skills using Adobe programs are in demand, and this course teaches the three programs focused on visual design. You will build your skills in Illustrator, InDesign, and Photoshop.
You will also be prepared for the Photoshop, Illustrator, and InDesign Adobe Certified Associate certifications. By earning two of these certifications, you will gain the Adobe Certified Professional in Visual Design certification. You will need to obtain one Photoshop certification and either one Illustrator or InDesign certification to qualify for the Visual Design certification.
This course enrollment includes vouchers. The voucher is pre-paid access to sit for the certifying exam upon eligibility.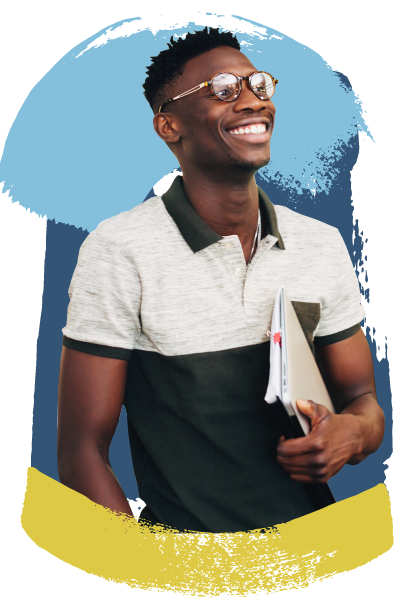 Looking for a Career?
Create visuals that get results professionally and artistically.
Combine your love of art with in-demand business skills with our associate degree in Graphic Design. This two-year program will help you build your portfolio, learn professional graphic design software and understand emerging business trends.
68 credits | Finish in 2 years