Draw out your creativity and turn it into a career.
Graphic design lets you make the most of your technical and artistic abilities.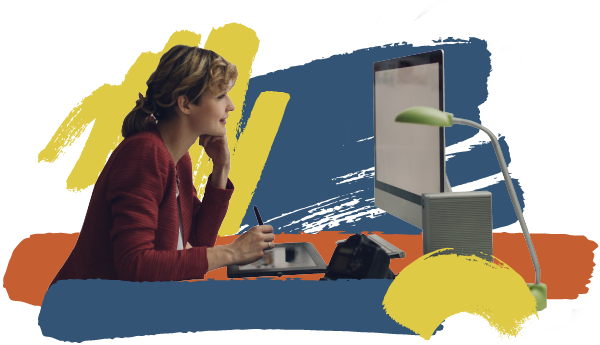 Noncredit Courses
Check out these graphic design courses for personal or professional development.
Vector images play an important role in the creative process. Learn the basics of creating beautiful vector images, gain an understanding of anchor points and paths, and then select, edit and manipulate them using the selection tools and modifier keys. Topics include becoming familiar with workspaces, working with objects, creating and saving swatches, and formatting text. You'll gain experience using the shape, transform, paintbrush and pen tools to create logos, backgrounds and simple illustrations. Intermediate-level computer skills required.
#63476, Online Live, 2/8-3/8, Tuesday, 6-9 PM
Continue to explore Adobe Illustrator's drawing and design capabilities in this course. Hands-on exercises will help you build on the skills learned in the Illustrator Intro course as you are introduced to working with layers, vector paths and the pathfinder panel; adding effects; and managing appearance attributes. Students are expected to have prior experience with Illustrator.
#63475, Online Live, 3/22-4/19, Tuesday, 6-9 PM
InDesign is the ultimate layout program for today's graphic designer. Develop the skills needed to create professional looking fliers, brochures and other multipage documents with confidence. Learn how to apply the principles of design to document layouts and understand how the four-color printing process works. Topics include how to set up specially sized documents, flow in and format text, use and create various styles, work with color, place graphics and output for commercial or desktop printing. Intermediate-level computer skills required.
#63494, Online Live, 2/10-3/10, Thursday, 6-9 PM
Continue on your graphic design path using what you've already learned. Gain greater proficiency in techniques that improve workflow. Learn keyboard shortcuts, and text and object styles, plus how to build multiple page documents, perfect the use of master pages, work with tables, apply special effects and use such advanced options as the Books feature. Prior experience with InDesign is expected.
#63493, Online Live, 2/10-3/10, Thursday, 6-9 PM
Photoshop is the tool of choice for advanced photograph manipulation and digital image preparation. In this course, you will learn how to adjust color, add and use layers, apply filters for different effects, dodge and burn, create gradients and cut out sections of a picture. You also will practice cropping, sizing, correcting color and contrast, and removing red eye while recognizing the importance of pixel-based images, their qualities and limitations. Photos will be prepared for print and email/on-screen use. Intermediate-level computer skills required.
#63531, Online Live, 2/9-3/9, Wednesday, 6-9 PM
Continue to explore Adobe Photoshop in this intermediate course. Learn masking, blending, creating effects and adjusting layers and type to create exciting digital compositions. You also will gain proficiency using keyboard shortcuts and improve workflow skills. Prior experience with Photoshop is expected.
#63530, Truax-Foundation Centre, 4/13-5/11, Wednesday, 6-9 PM
Students will learn best practices for building professional, quality documents, along with proper software application. This course includes a mixture of Illustrator, Photoshop and InDesign to combine vector and raster images into advanced layouts. The course will focus on workflow for print production and will include the completion of a 2-color, a 4-color, and a multi-page document. Topics for the projects will be offered in class, but you're encouraged to come up with your own. Required prerequisite: intermediate experience with Illustrator, Photoshop and InDesign (such as completing the introductory courses for all three).
#63538, Truax-Foundation Centre, 4/14-5/12, Thursday, 6-9 PM
Become familiar with using Adobe Lightroom to import, view and organize photos, as well as apply various filters and create web galleries and slideshows. You also will learn how to edit photos for white balance, exposure, tonal adjustments, saturation and color. Intermediate-level computer skills recommended.
#63477, Online Live, 3/21-4/18, Monday, 6-9 PM
Three Ways to Register for Noncredit Courses
1. Register by Phone
2. Express Registration
3. Log into MyMadisonCollege
Professional Development Courses
Professional Graphic Design Certificate
This digital credential will help you build on your existing computer skills and strengthen your know-how about both print design and digital documents.  If you are a professional who already knows the basics of graphic design, this certificate will help you take your skills to the next level.

Adobe Certified Associate
There is a strong demand for Adobe Creative Suite skills. In the Adobe Certified Associate course, you will learn five of the most often-used Adobe programs: Dreamweaver, Illustrator, Photoshop, InDesign, and Animate (formerly Flash).
You will read articles, complete exercises and watch video demos and reviews of exercises, take quizzes and exams, and complete a project. By focusing on these five programs, you will learn how to put all the parts and pieces together.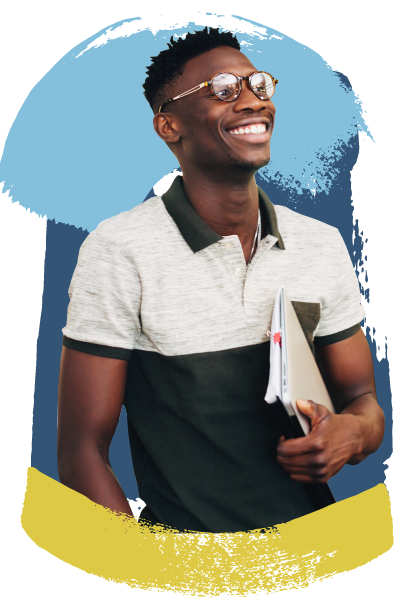 Looking for a Career?
Create visuals that get results professionally and artistically.
Combine your love of art with in-demand business skills with our associate degree in Graphic Design. This two-year program will help you build your portfolio, learn professional graphic design software and understand emerging business trends.
68 credits | Finish in 2 years