Draw out your creativity and turn it into a career.
Graphic design lets you make the most of your technical and artistic abilities.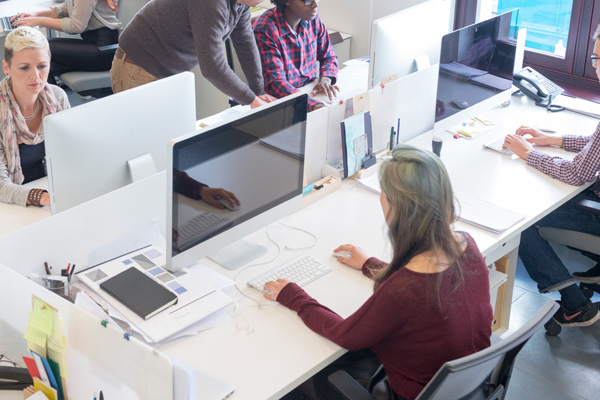 Upcoming Courses and Training
Graphic Design Courses
Learn new skills and techniques for digital painting with our intermediate class. Through five projects over five weeks you will explore planning, thinking in shapes, sketching and coloring, shading methods, and textures.
Required: Tablet/iPad with apple pencil or stylus or desktop with Wacom or other drawing tablet attached. Sketchbook app.
#63660, Online Live, 4/3-4/24, Monday, 6-8 PM
Adobe Creative Cloud Courses
In this course students will continue to explore the drawing and design capabilities of Adobe Illustrator to create layouts and more complex vector illustrations. Hands-on exercises will help build upon the skills learned in the Illustrator Intro course. Learners will be introduced to working with layers, the pathfinder panel, adding effects, and managing appearance attributes. In all, this course will reinforce the necessary knowledge and skills needed for working with vector paths.
#63274, Online Live, 4/4-5/2, Tuesday, 6-9 PM
Students will further explore Photoshop with the use of masking, blending, effects, adjustment layers and type to create exciting digital compositions while gaining proficiency using keyboard shortcuts and improve workflow skills.
#63310, Online Live, 4/12-5/10, Wednesday, 6-9 PM
Three Ways to Register for Noncredit Courses
1. Register by Phone
2. Express Registration
3. Log into MyMadisonCollege
Graphic Design Certificate
Professional Graphic Design Certificate
This digital credential will help you build on your existing computer skills and strengthen your know-how about both print design and digital documents.  If you are a professional who already knows the basics of graphic design, this certificate will help you take your skills to the next level.