Get the in-demand training you need to further your career or to prepare for your next one. From AutoCAD to Welding, we have you covered.
Skilled professionals looking to advance in their career will find courses in Construction Project Management, Home Inspection, and prep courses for the Wisconsin Journeyman Electrician exam.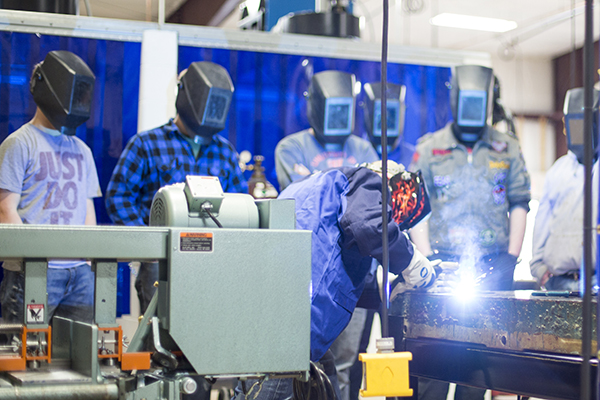 Upcoming Courses and Training
Home and Shop Courses
This course is intended to help the student feel more confident in their understanding of a variety of vehicle systems. Approximately half of the class will be presentation followed by hands-on lab time to check a list of items including fluids, tires, brakes and more, so that you may do it yourself when needed. This course will also help prepare you to discuss issues when you need to take your vehicle to be repaired.
#63607, Truax-Main Building, 3/23, Thursday, 5-8 PM
#10541, Truax-Main Building, 6/22, Thursday, 5-8 PM
Construction and Electrical Courses
This course covers the use of all the tools required to operate as a successful professional manager. You will learn all aspects of a construction project, understanding business structure, administration contracts, blueprint constructability review, estimating, project scheduling and all facets of coordination to close out the project. Class exercises develop skills you can use on the job.
#63282, Online Live, 4/15-4/29, Saturday, 10 AM-2 PM
Wisconsin Home Inspection Courses
This digital credential indicates successful completion of a course of study to prepare to take the State of Wisconsin Home Inspector exam. Considered an inspector's guide to the field, a badger earner will learn how to identify problem areas through observation, and gain understanding of home elements of soil, foundation, exterior roofing, insulation, home construction, plumbing, electrical and heating systems.
Second and final course preparing the student to take the State exams needed to become licensed. The course deals with various elements of a home including plumbing, electrical and heating systems.
#63314, Commercial Ave, 3/28-5/9, Tuesday, 6-9 PM
Journeyman and Master Electrician Courses
This course provides the opportunity for the learner to develop the skills needed and the ability to prepare for and pass the State of Wisconsin Journeyman or Master Exam test. Part 1 and Part 2 are needed to prepare for the exam.
#63785, Commercial Ave, 3/28-4/25, Tuesday, 5-8 PM
Welding Courses
Part 1 of 2: Introductory course designed to provide the learner with a basic theoretical understanding of the Gas Tungsten Arc Welding process. Emphasis is placed on welding safety, equipment set-up/adjustment and developing manipulative skills using the Gas tungsten Arc Welding Process. Welding skills are developed by performing a variety of weld joints in the flat and horizontal position on mild steel and stainless steel. Welding electrode identification, applications and shielding gasses are also addressed.
#63356, Truax-Main Building, 3/27-4/12, Monday and Wednesday, 6-9 PM
Part 2 of 2.
#63357, Truax-Main Building, 4/17-5/3, Monday and Wednesday, 6-9 PM
Three Ways to Register for Noncredit Courses
1. Register by Phone
2. Express Registration
3. Log into MyMadisonCollege