Music is good for you! Taking up an instrument is a fun hobby that you can take as far as you want to, from your living room to the stage.
Our courses offer variety and the chance to start or improve your musical abilities. Playing music is a great way to reduce stress and really enjoy the results of what you learn.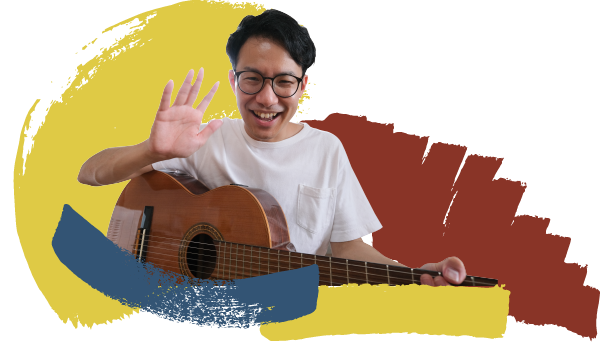 Noncredit Music Courses
Express yourself with music, whether you're a beginner or a seasoned player.
Learn how to read music and interpret chord diagrams for the guitar, as well as basic strumming rhythms/patterns. We will play basic tunes together as a class. Bring your own guitar (preferably acoustic) to each class.
#63434, Truax-Foundation Centre, 1/31-3/7, Monday, 6:30-8:30 PM
You should be comfortable with basic music reading and chord knowledge. The class will review material as needed from Applied Guitar 1 as you keep learning to read music and tablature. This course will introduce more advanced strumming patterns and beginning blues/rock examples.
#63435, Truax-Foundation Centre, 3/21-4/25, Monday, 6:30-8:30 PM
The harmonica is a fun, simple, yet expressive musical instrument. In this class we will look at beginning harmonica techniques such as getting single notes, popular melodies, blues, bent notes and improvising. Ability to read music is unnecessary.
#63409, Online Live, 3/22-5/10, Tuesday, 6:30-8:30 PM
Gain a basic foundation in music theory. Weekly lessons will include note reading, rhythm/melody/harmony structure and recognition, music terminology, scales, key signatures and composition techniques. Class time will include written and ear-training exercises. You will do active-listening exercises in a variety of musical styles and use what you've learned to write your own song!
#63417, Online Live, 2/22-4/26, Tuesday, 7-8:30 PM
This course is for students with little or no piano background. Learn basic note reading, technique, rhythm and music theory. Pieces will include familiar melodies of classical, folk and pop songs.
#63418, Truax-Main Building, 2/2-5/11, Wednesday, 9:30-10:30 AM
Continuation of Piano 1. Students will continue studies of note reading, technique, rhythm, and music theory.
#63419, Online Live, 3/23-5/18, Wednesday, 6-7:30 PM
This is a group piano course for students progressing above the elementary level. Study early intermediate level piano solos from the Baroque, Classical, Romantic and Contemporary periods. Perform technical exercises and piano pieces that use a variety of rhythmic variations and theoretical ideas.
#63594, Truax-Main Building, 2/2-5/11, Wednesday, 8:30-9:30 AM
This is a group piano course for students who have completed at least Piano Semester 2. The course will cover some technique, theory and improvisation, as well as classical, pop and holiday music.
#63595, Truax-Main Building, 2/2-5/11, Wednesday, 10:30-11:30 AM
The Madison College Big Band explores music of many periods for jazz big band, including swing, funk, Latin, and modern jazz styles. The band holds performances throughout the year on Madison College campuses and in surrounding communities. Open to all as space is available. Contact Jamie Kember at jkember@madisoncollege.edu for more information.
#63597, Truax-Main Building, 1/24-5/2, Monday, 6:15-7:30 PM
#63658, Truax-Main Building, 1/24-5/2, Monday, 7:45-9 PM
If you like to sing, consider joining the Madison College Choral Collective. We're a community-based vocal ensemble of Madison College students and staff and Madison-area community members. The Choral Collective is a non-audition, inclusive organization and all are welcome.
#63596, Truax-Main Building, 1/27-5/5, Thursday, 7-9 PM
The Madison Community Orchestra is an ensemble of approximately 80 musicians of varying ages and abilities from the Madison area. We're committed to the growth and continuing education of amateur musicians through regular rehearsals and performances. The MCO rehearses weekly and performs four concerts per year, such as the Holiday Concert in the State Capitol Rotunda. Open to strings, winds, brass, and percussion by audition with the conductor, Blake Walter. Contact bwalter@edgewood.edu to schedule an audition.
#63598, Truax-Main Building, 1/25-5/3, Tuesday, 7:15-9:15 PM
The Madison Municipal Band is a traditional concert band consisting of woodwind, brass and percussion instruments. The mission of the ensemble is to provide opportunity for personal involvement in the arts, while fostering an environment for musical expression, appreciation, growth and fellowship. The group performs public concerts regularly in the Mitby Theater. Membership is open to all following a brief seating audition with the conductor. Contact Scott Teeple at steeplematc@gmail.com to schedule an audition.
#63599, Truax-Main Building, 1/26-5/4, Wednesday, 7-9 PM
Three Ways to Register for Noncredit Courses
1. Register by Phone
2. Express Registration
3. Log into MyMadisonCollege
World Drumming Ensemble
Learn to play drums for college credit!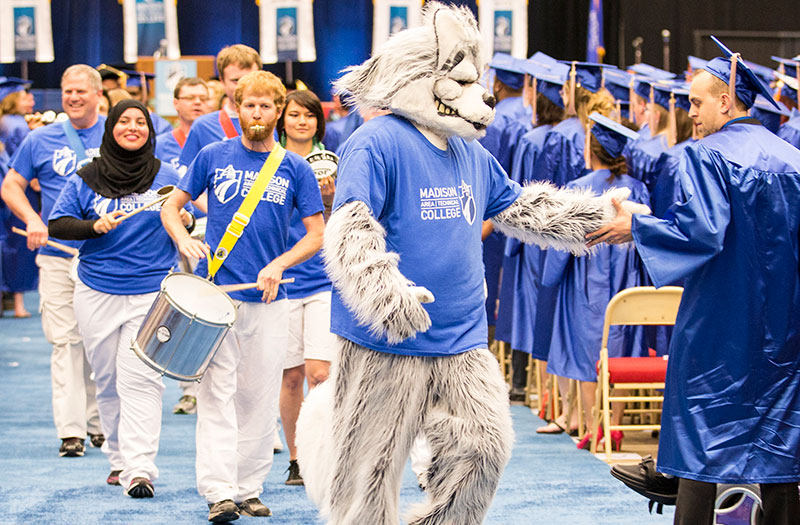 The Madison College World Drumming Ensemble is a high-energy organization that teaches participants to play several kinds of drums. They perform at special community and campus events, such as graduation.