Neurologists claim that learning another language is good for your brain! It's also a great way to enrich your life and your career.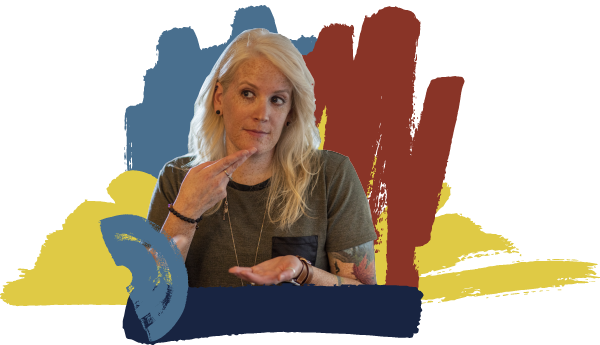 Noncredit Language Courses
Go places—in the world and in your career—when you learn a new language!
This course is for students with no previous knowledge of the Japanese language. We will be emphasizing introductory-level Japanese for recreation. Topics included basic pronunciation, alphabets, numbers, travel and ordering food with uncomplicated verbal communication.
#63397, Online Live, 1/24-3/14, Tuesday, 6-8:30 PM
In "Japanese 2," students will spend more time improving their grammar and building their vocabularies, while spending more time in conversation with the fellow students and the instructor in order to become more comfortable with everyday situations and common expressions.
#63399, Online Live, 3/28-5/16, Tuesday, 6-8:30 PM
Students will continue to expand on the vocabulary, grammar, usage and conversation skills begun in levels 1 and 2.  Writing skills may also be covered if relevant to the interests of the students.
#63400, Online Live, 1/25-3/15, Wednesday, 6-8:30 PM
Students will improve their fluency and vocabulary in Japanese by working on small projects as well as by engaging in conversations with classmates and the instructor. The course is intended for those who have completed at least Japanese 1-3 coursework or Genki Book 1.
#63606, Online Live, 3/29-5/17, Wednesday, 6-8:30 PM
This course will acquaint you with the fundamentals of the Russian language, including the Cyrillic alphabet, basic grammar and vocabulary, and elementary conversation skills. We will also talk about literature, history, art, music, and food, in order to gain insight into Russian culture and supplement your language learning.
#63812, Truax-Main Building, 4/5-5/24, Wednesday, 6-8:30 PM
This course is for students who have some previous knowledge of Russian, or have successfully completed non-credit Russian 1. The objective of the course is to continue building confidence and developing communicative skills, to improve knowledge of Russian grammar and vocabulary.
#63781, Truax-Main Building, 1/25-3/15, Wednesday, 6-8:30 PM
This class is designed for students with little or no previous knowledge of Spanish. This is an introductory course in Spanish language including basic commands, greetings, colors, numbers, parts of the body, family relationships, time, and foods.
#63385, Online Live, 2/21-3/30, Tuesday and Thursday, 6-7:40 PM
#63386, Online Live, 4/10-5/17, Monday and Wednesday, 6-7:40 PM
Spanish 2 is ideal for those who have had some Spanish before and are seeking to refresh what they know and to improve their reading, writing, speaking, and listening skills. There will be an emphasis on vocabulary building, covering a variety of topics, and being able to communicate in a meaningful way. Grammar will also be covered in order to help students understand the structure behind the language.
#63387, Online Live, 4/11-5/18, Tuesday and Thursday, 6-7:40 PM
In "Spanish 4," students will have more opportunity to learn complex sentence structures and become more comfortable communicating in the Spanish language.
#63713, Online Live, 1/24-3/14, Tuesday, 6-8:30 PM
American Sign Language
Students learn basic skills of the American Sign Language (ASL) used by and for the deaf. This is an introductory course for those wanting to learn a second language or those who want to communicate with people who are deaf or hard of hearing. Clinical and cultural aspects are covered as well as basic tips on how to best communicate with people who have hearing loss. Receptive and expressive sign vocabulary building activities are introduced through class activities stressing conversational skills. Students learn basic ASL questions, commands, and simple sentences. Information about the deaf community is also presented. Students practice with non-verbal/gesture activities, alphabet, and numbers.
#63416, Truax-Health Building, 1/23-3/13, Monday, 6-8:30 PM
For students who have completed one or two semesters of introductory American Sign Language and want continued practice with previously introduced sign vocabulary, nuances of ASL non-verbal communication, expression, and structure. The class features further vocabulary building, advancement of grammar pattern use and increased ASL conversation without voice. Guest deaf participants provide receptive finger spelling and conversational skill practice.
#63418, Truax-Health Building, 3/20-5/8, Monday, 6-8:30 PM
For students who are conversant with ASL and want to explore further structure, vocabulary, and use of the language. The course is not recommended for students who may have taken levels 1 and 2 but are still not comfortably conversant with ASL.
#63599, Truax-Health Building, 1/24-3/14, Tuesday, 6-8:30 PM
Continuing building on your conversational skills that you learned in Sign Language 3.
#63600, Truax-Health Building, 3/21-5/9, Tuesday, 6-8:30 PM
Healthcare Interpreting (HCI)
Work with trained healthcare interpreters who will prepare you for this rewarding career. Help doctors communicate with non-English speaking patients so they may ensure the best possible care.
Three Ways to Register for Noncredit Courses
1. Register by Phone
2. Express Registration
3. Log into MyMadisonCollege
World Language Certificate Programs
Broaden your career horizons with these FAST TRACK language credentials.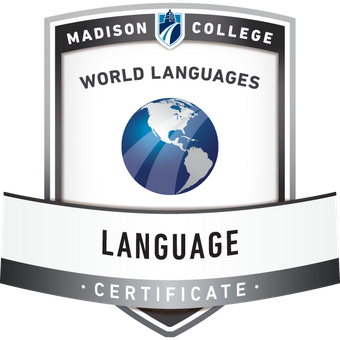 Improve your French language communication and cultural understanding with our certificate in French Language Proficiency.
13 credits | Finish in 4-12 months
Employers are always looking for bilingual candidates. Improve your Spanish language communications skills with a certificate in Spanish Language Proficiency.
13 credits | Finish in 4-12 months