Help future students learn more about Madison College.
Showcase the day-in-the-life of a Madison College student by taking over our Instagram stories. You also have the option to create a TikTok video to share on our account.
These guidelines will help you create a successful Instagram story takeover or TikTok video.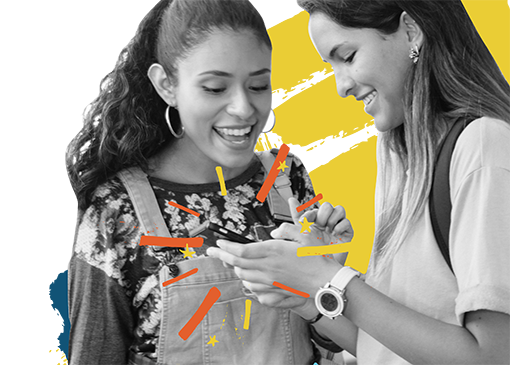 Before You Start
Share with us a photo and a few short sentences about you so we can promote your takeover in advance.
We will promote it on our social media channels and encourage you to promote it to your family and friends.
What You Will Do on Instagram
Share 5 – 8 photos or videos during your takeover. Don't forget to add captions, stickers, gifs, polls, etc.
Your takeover lasts from 9 a.m. – 5 p.m., unless a specific time has been scheduled.
Let People Know
Who you are (first name only).
What your program is.
Where you are from.
Your favorite things about Madison College.
Takeover Tips
Tips for Instagram
Think of your audience as someone who doesn't know anything about Madison College.
Make it fun.
Describe your day.
Show us where you are on campus or your online learning space.
Show off your classes, online learning tips, study spots, internship, where you eat lunch, campus buildings, etc.
Don't forget an introduction and farewell image or video clip.
TikTok Ideas
Have fun and be creative with your video.
Do a dance challenge with another Madison College student.
Demonstrate a skill you learned in your program.
Take part in a trending challenge. (Keep safety in mind!)
Show off your online learning space.
Social Media Takeover Rules
Remember you are representing Madison College. Make us proud!
Portray Madison College in a positive light.
Respect confidentiality in classroom. Get permission before including classmates in your story.
Submit a mix of 5-8 images and videos to assigned OneDrive folder.

The Social Media Strategist will post the photos and videos throughout the day of the Instagram Takeover.

Madison College's Social Media Strategist has the right to edit or delete posts.
Images cannot include off campus parties, drugs, alcohol, sexual content, profanity, hate speech, bullying, politics, personal business promotion or negative opinions about the college. (Basically…don't post anything you wouldn't want your parents/grandma/little brother, etc. to see.)
By checking the box on the Instagram Takeover Application, you agree to follow these guidelines for an Instagram takeover or creation of a TikTok video.