Have some fun while you explore your creative side!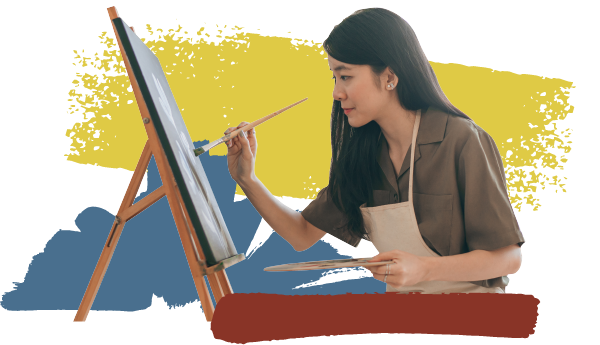 Noncredit Art Courses
Discover a new passion or enhance an existing skill with these noncredit art classes.
Learn the basics of calligraphy, involving different alphabet styles, with individualized instruction.
#63419, Online Live, 2/6-3/13, Monday, 6-8 PM
This course introduces the basics of sewing. The topics covered include operation of a sewing machine, familiarity with essential equipment, choosing and preparing a pattern, information on fabric and interfacing selection, and construction of simple projects. This is also a great refresher course. Individual help is given along with demonstration of techniques.
#63657, Truax-Foundation Centre, 1/17-2/21, Tuesday, 6-9 PM
This course is a continuation of the Sewing Beginning course and includes lectures, demonstrations, and individual help. Students will construct a project of their choice that is as the beginner level from a commercial pattern. Topics include: buttonholes, zippers, closures, and some alterations.
#63658, Truax-Foundation Centre, 3/7-4/11, Tuesday, 6-9 PM
This course is designed for the student with previous sewing experience. Advanced techniques will be demonstrated and taught. Topics may include: alterations to clothing, adjusting commercial patterns for proper fit, invisible zipper application, understanding interfacing and stabilizers and more.
#63659, Truax-Foundation Centre, 4/25-5/11, Tuesday and Thursday, 6-9 PM
For students who want a workspace with sewing equipment for sewing projects. All levels of sewers are welcomed. No lectures or demonstrations, just individual help with the use of equipment and techniques sewing projects.
#63683, Truax-Foundation Centre, 3/9-4/20, Thursday, 6-8 PM
This class is for beginner to intermediate students or anyone who has experience using watercolors and is looking to brighten up their paintings using techniques that allow you to manipulate space, light and color in new ways. You will learn new techniques each week. There will continuous demonstrations and conversations as you experiment and explore concepts.
#63661, Truax-Protective Services, 4/11-5/16, Tuesday, 6-9 PM
For beginners or continuing students refining their watercolor skills, this class will be filled with technical information, demonstrations, individual instruction, and lots of time to paint. Learn brush handling, color theory and watercolor techniques such as washes, glazes, and textural effects. Choose subject matter from photos, book references or still lifes as the class explores painting styles from realism to abstract.
#63428, Truax-Protective Services, 1/17-2/21, Tuesday, 6-9 PM
#63473, Truax-Protective Services, 2/28-4/4, Tuesday, 6-9 PM
See digital art in a whole new light. This class is a beginner level exploration of the tools, theory, techniques, and tricks of working with computers, tablets, and software to create artwork. Learn to produce digital paintings and conceptual art by applying traditional art skills in a virtual environment. Required:  A tablet/iPad with apple pencil or other stylus OR desktop computer with a Wacom or other drawing tablet attached. Sketchbook app.
#63390, Online Live, 3/6-3/27, Monday, 6-8 PM
Learn new skills and techniques for digital painting with our intermediate class. Through five projects over five weeks you will explore planning, thinking in shapes, sketching and coloring, shading methods, and textures.
Required: Tablet/iPad with apple pencil or stylus or desktop with Wacom or other drawing tablet attached. Sketchbook app.
#63660, Online Live, 4/3-4/24, Monday, 6-8 PM
Students will develop skills by learning about the materials of painting, color theory, form and composition. This class is intended for beginners and those who want to review the fundamentals of painting. Students will create a number of studies and paintings while learning to view the world through an artistic lens. This class is acrylic only. Drawing Fundamentals strongly recommended.
#63662, Truax-Protective Services, 2/23-4/13, Thursday, 6-9 PM
Create unique and beautiful holiday bulbs and ornaments using alcohol inks. Alcohol inks are fast-drying, highly pigmented inks that you can use on a variety of surfaces. Once the ink is applied the alcohol evaporates and leaves behind the dye with stunning results. Come explore this fascinating medium!
#34209, Truax-Protective Services, 12/1, Thursday, 5:30-7:30 PM
Students will learn to choose and interpret a pattern and select equipment and yarn. Basic knitting stitches and processes, perfection gauge, and finishing seams are also included.
#63725, Truax-Early Learning Center, 2/15-3/8, Wednesday, 6-8 PM
Learn to knit socks on double pointed & circular needles, cuff down & toe up, flapped & short row heels. Class projects will be using baby sized socks to knit in the various techniques.
#63726, Truax-Early Learning Center, 3/29-4/19, Wednesday, 6-8 PM
New students begin on a basic project such as a footstool or a small chair, receive instruction in the use of tools and equipment, and learn about the selection, estimation and application of fabric, basic construction processes such as webbing, springs, rolled edges, frames, fillings, and the use of the upholstery sewing machines. Continuing students work on projects and learn intermediate upholstery techniques such as types of spring construction, stitched edges, rolled edges, deck and nosing of seat, channel backs, buttons and tucks, pillows, etc.
#63429, Commercial Ave, 1/24-5/2, Tuesday, 6-9 PM
#63430, Commercial Ave, 1/28-5/6, Saturday, 9 AM-12 PM
#63431, Commercial Ave, 2/1-5/10, Wednesday, 1-4 PM
#63432, Commercial Ave, 2/1-5/10, Wednesday, 6-9 PM
This class is perfect for students who have always been curious about art metals and are ready to get their feet wet! In this short course you will become familiarized with the lab and introduced to basic metalsmithing techniques by creating your own ring and pendant. This class makes a great precursor to Jewelry 1.
#63760, Commercial Ave, 3/2-4/6, Thursday, 5:30-8:30 PM
This is a beginning level class that focuses on the fundamentals of jewelry and metalsmithing. Students will create rings while learning basic techniques such as sawing, piercing, filing, sanding, texturing, soldering, finishing, and bezel stone setting. Projects are predetermined but open to interpretation based upon a student's own design aesthetic.
#63424, Commercial Ave, 1/24-5/2, Tuesday, 9 AM-12 PM
Jewelry 1 / Art Metal is an introduction to the basic techniques of jewelry making and small-scale metal objects using silver, copper, bronze, and brass. The fall semester focuses on fabrication and forming. The spring semester focuses on bezel stone setting and casting. Advanced students enrolled in Jewelry 1 will work independently.
#63426, Commercial Ave, 1/31-5/16, Tuesday, 6-9 PM
This course is for any student who has learned the basic fabrication techniques. Run in a workshop manner, demonstrations (such as photo-etching, tube setting, marriage of metal, and casting) are based on the desires and needs of students in the class.
#63425, Commercial Ave, 1/23-5/8, Monday, 6-9 PM
This course is suitable for all levels; from those who are just beginning to those who want to continue their practice. This class will cover the basics of wheel throwing, surface design techniques and glazing. 25 lbs of clay, glazes and firing included.
#63420, Commercial Ave, 1/24-5/9, Tuesday, 6-9 PM
#63451, Commercial Ave, 1/26-5/11, Thursday, 6-9 PM
This class will introduce basic techniques so you can create accurate drawings as you work from observation. The skills and concepts presented will provide an initial framework for your talent, build confidence in your ability, and amplify your creativity.
#63437, Truax-Main Building, 1/23-3/13, Monday, 6-8:30 PM
This course is for those who wish to continue building their drawing skills, refine their artist's eye and truly see as an artist . Expanding on the concepts and principles introduced in the fundamentals session we will delve further into the art of linear perspective, proportions, composition, and effective use of light and shade.
#63756, Truax-Main Building, 1/18-3/8, Wednesday, 6-8:30 PM
Three Ways to Register for Noncredit Courses
1. Register by Phone
2. Express Registration
3. Log into MyMadisonCollege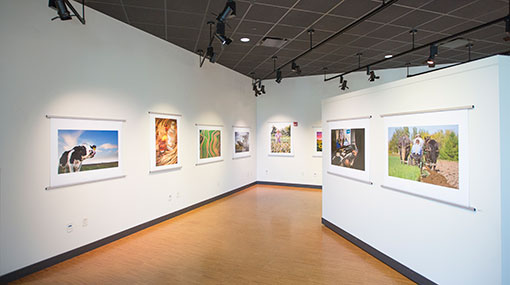 The Gallery at Truax provides diverse experiences by exhibiting creativity, innovation, and collaboration for Madison College and its community. View the exhibition schedule, hours and location.