Have some fun while you explore your creative side!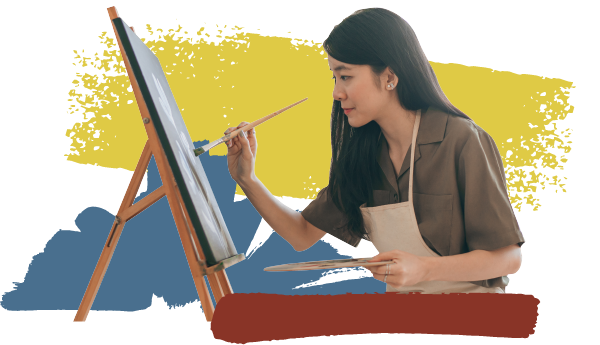 Noncredit Art Courses
Discover a new passion or enhance an existing skill with these noncredit art classes.
This course will provide a variety of topic-based classes using advanced Ceramics.
#33553, Commercial Ave, 8/29-12/12, Monday, 6-9 PM
#33605, Commercial Ave, 8/31-12/14, Wednesday, 6-9 PM
This is a beginning level class that focuses on the fundamentals of jewelry and metalsmithing. Students will create rings while learning basic techniques such as sawing, piercing, filing, sanding, texturing, soldering, finishing, and bezel stone setting. Projects are predetermined but open to interpretation based upon a student's own design aesthetic.
#33552, Commercial Ave, 9/13-12/13, Tuesday, 9 AM-12 PM
Jewelry 1/ Art Metal is an introduction to the basic techniques of jewelry making and small-scale metal objects using silver, copper, bronze, and brass. The fall semester focuses on the fabrication and forming. The spring semester focuses on bezel stone setting and casting. Advanced students enrolled in Jewelry 1 will work independently.
#33509, Commercial Ave, 9/6-12/13, Tuesday, 6-9 PM
This course is for any student who has learned the basic fabrication techniques. Run in a workshop manner, demonstrations (such as photo-editing, tube setting, marriage of metal, and casting) are based on the desires and needs of students in the class.
#33467, Commercial Ave, 9/12-12/19, Monday, 6-9 PM
New students will start with a simpler project such as a footstool or a small chair. You'll learn the proper tools and equipment, all aspects of working with fabric and basic construction processes. Continuing students learn intermediate upholstery techniques including spring construction, stitched edges, pillows and more.
#33454, Commercial Avenue, 9/7-12/4, Wednesday, 1-4 PM
#33455, Commercial Avenue, 9/7-12/4, Wednesday, 6-9 PM
#33456, Commercial Avenue, 9/13-12/13, Tuesday, 6-9 PM
#33457, Commercial Avenue, 9/10-12/17, Saturday, 9 AM-12 PM
This course introduces the basics of sewing. The topics covered include operation of a sewing machine, familiarity with essential equipment, choosing and preparing a pattern, information on fabric and interfacing selection, and construction of simple projects. This is also a great refresher course. Individual help is given along with demonstration of techniques.
#33699, Truax-Foundation Centre, 9/13-10/25, Thursday, 6-9 PM
This course is a continuation of the Sewing Beginning course and includes lectures, demonstrations, and individual help. Students will construct a project of their choice that is as the beginner level from a commercial pattern. Topics include: buttonholes, zippers, closures, and some alterations.
#33701, Truax-Foundation Centre, 11/1-12/13, Tuesday, 6-9 PM
For students who want workspace with sewing equipment for sewing projects. All levels of sewers are welcomed. No lectures or demonstrations, just individual help with the use of equipment and techniques sewing projects.
#33698, Truax-Foundation Centre, 9/15-10/27, Thursday, 6-8 PM
Designed for the intermediate and advanced sewer; short demonstrations, lectures, and assistance to the student are given in all aspects of sewing. Student select their own projects.
#33700, Truax-Foundation Centre, 11/3-12/15, Thursday, 6-9 PM
See digital art in a whole new light. This class is a beginner level exploration of the tools, theory, techniques and tricks of working with computers, tablets, and software to create artwork. Learn to produce digital paintings and conceptual art by applying traditional art skills in a virtual environment.
#33544, Online Live, 9/19-10/24, Monday, 6-8 PM
Learn new skills and techniques for digital painting with our intermediate class. Through five projects over five weeks you will explore planning, thinking in shapes, sketching and coloring, shading methods, and textures.
#33545, Online Live, 11/7-12/12, Monday, 6-8 PM
Take in technical information, demonstrations, individual instruction and lots of time to paint. Learn brush handling, color theory and watercolor techniques such as washes, glazes and textural effects. Choose subject matter from photos, book references or still life as you explore painting styles from realism to abstract.
#33561, Truax-Protective Service Bldg, 9/7-10/12, Wednesday, 6-9 PM
#33562, Truax-Protective Service Bldg, 11/8-12/13, Wednesday, 6-9 PM
#33568, Truax-Protective Service Bldg, 9/20-10/25, Tuesday, 6-9 PM
Learn the basics of calligraphy and different alphabet styles with individualized instruction.
#33451, Online Live, 9/12-10/17, Monday, 6-8 PM
In this class, you will learn to see as artists do. All levels of aptitude are encouraged - everyone can learn to draw and non one in this class is a professional! We will go through the basics of materials and learn fundamental techniques. Students will produce drawings in-class in a variety of medium and have optional homework for the week. At the end of the course, you will have the confidence needed to continue drawing and developing your skills.
#33666, Truax-Main Building, 9/27-11/29, Tuesday, 6-8 PM
#33670, Watertown, 10/8-11/12, Saturday, 9 AM-12 PM
This beginner's course in cartooning will cover a variety of topics including: 2D design and perspective, basic drawing techniques with pen and ink, figure drawing and character modeling.
#33597, Truax-Main Building, 10/15-11/12, Saturday, 9 AM-12 PM
Push your creativity to design and create a one-color image to be printed on up to 5 shirts. Learn the process of crafting artwork and screens, explore ink and fabric, print on a professional press. You will be printing your custom image in black ink on the garments you supply.
#33748, TBA, 10/19-10/26, Wednesday, 5:30-8:30 PM
Use historic wood type and vintage presses to create giftable holiday garlands. Explore paper and ink, print on a press, drill holes, choose twine and package your garlands. This year's phrase is PEACE & JOY. You can expect to take home 3-5 garlands. No experience needed.
#33678, Truax-Main Building, 11/5-11/12, Saturday, 9 AM-12 PM
Floral Design will cover basic principles and mechanics of floral design. Flowers and supplies are included in the class fee.
#33579, Truax-Protective Services, 10/11-10/18, Thursday, 6-8 PM
#33782, Watertown, 11/2, Wednesday, 5:30-8:30 PM
Create Christmas centerpieces with live greens that are often accented with votive candles placed in holders around an arrangement. Identify traditional colors associated with the holiday season.
#33617, Truax-Protective Services, 11/10-11/17, Thursday, 6-8:30 PM
Students will learn to choose and interpret a pattern and select equipment and yarn. Basic knitting stitches and processes, perfection gauge, and finishing seams are also included.
#33513, Fort Atkinson, 9/10-10/1 and 10/15-10/22, Saturday, 9-11:30 AM 
Three Ways to Register for Noncredit Courses
1. Register by Phone
2. Express Registration
3. Log into MyMadisonCollege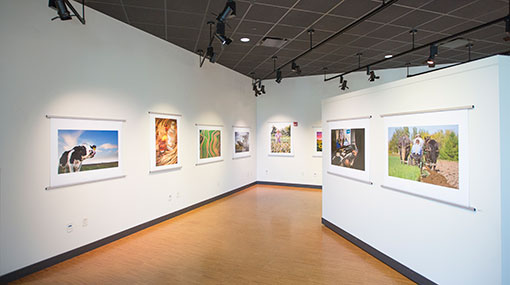 The Gallery at Truax provides diverse experiences by exhibiting creativity, innovation, and collaboration for Madison College and its community. View the exhibition schedule, hours and location.