A perfect blend of practical knowledge and imagination. That's a combo you can build a career on.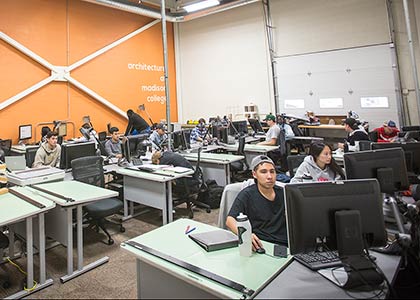 Student Satisfaction
99% of our recent graduates report they are satisfied with their Madison College education.
Annual Salary
Our recent graduates of this program reported an average starting salary of $47,148.
Program Number: 106141
Your Degree:
Associate Degree
Area of Study:
Architecture and Engineering
Estimated Time to Complete:
68 Credits | Finish in 2 years (full-time attendance)
Estimated Tuition
$10,731.80
$9,588.00 Tuition
$1,143.80 Materials/Supplemental Costs
$0.00 Other Costs
Your first step is to apply to Madison College. It's easy and free to apply, so get started today!
Contact the School of Technologies and Trades
Hours
Monday – Friday: 8 am - 4:30 pm