So many teeth, so little time. Sure, a hygienist cleans them – but there's so much more. Play a vital role in patient health.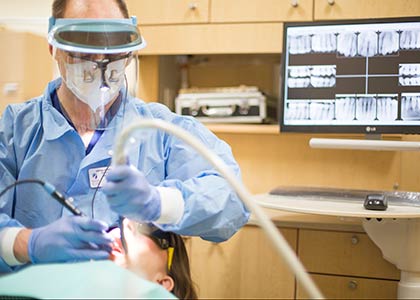 Recent Graduates
There are 32 recent graduates of this Madison College program.
Student Satisfaction
99% of our recent graduates report they are satisfied with their Madison College education.
Annual Salary
Our recent graduates of this program reported an average starting salary of $55,092.
Program Number: 105081
Your Degree:
Associate Degree
Area of Study:
Health Sciences
Delivery Method:
Some Online / Some In Person
Estimated Time to Complete:
70 Credits | Finish in 2 years (full-time attendance)
Estimated Tuition
$14,870.17
$10,971.70 Tuition
$3,350.47 Materials/Supplemental Costs
$548.00 Other Costs
Contact the School of Health Sciences
Madison Truax Campus
Health Building, 103
1705 Hoffman Street
Madison, Wisconsin 53704
Hours
Virtual Service Hours
Monday – Thursday: 9 am - 3 pm
Friday: 9 am - 12 pm