Far from being scared, you find the dentist's office sort of fascinating. Maybe there's a job there. (Hint: It's this one.)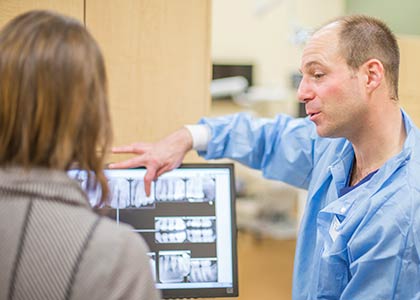 Recent Graduates
There are 48 recent graduates of this Madison College program.
Student Satisfaction
99% of our recent graduates report they are satisfied with their Madison College education.
Annual Salary
Our recent graduates of this program reported an average starting salary of $35,592.
Program Number: 305082
Your Degree:
Technical Diploma
Area of Study:
Health Sciences
Delivery Method:
Some Online / Some In Person
Estimated Time to Complete:
16 Credits | Finish training in as little as 1 year (programs vary)
Estimated Tuition
$3,059.60
$2,256.00 Tuition
$565.60 Materials/Supplemental Costs
$238.00 Other Costs
Your first step is to apply to Madison College. It's easy and free to apply, so get started today!
Contact the School of Health Sciences
Madison Truax Campus
Health Building, 103
1705 Hoffman Street
Madison, Wisconsin 53704
Hours
Virtual Service Hours
Monday – Thursday: 9 am - 3 pm
Friday: 9 am - 12 pm