Mr. Rogers said, "Look for the helpers." Earning your EMT license makes you a helper.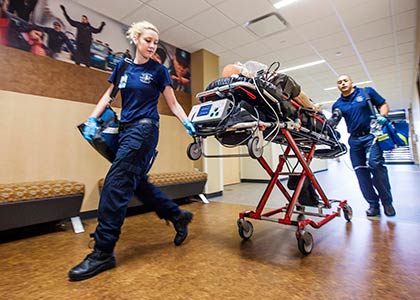 Recent Graduates
There are 178 recent graduates of this Madison College program.
Student Satisfaction
95% of our recent graduates report they are satisfied with their Madison College education.
Job Placement
92% job placement within six months of graduation.
Emergency Medical Technician
Program Number: 305313
Your Degree:
Technical Diploma
Area of Study:
Health Sciences
Estimated Time to Complete:
5 Credits | Finish diploma in 1 semester
Estimated Tuition
$1,128.85
$717.25 Tuition
$156.60 Materials/Supplemental Costs
$255.00 Other Costs
Contact Emergency Medical Services
Hours
Monday – Friday: 9 am - 5:30 pm