Independence is so important. Helping others maintain or regain theirs is what you – and this degree – are all about.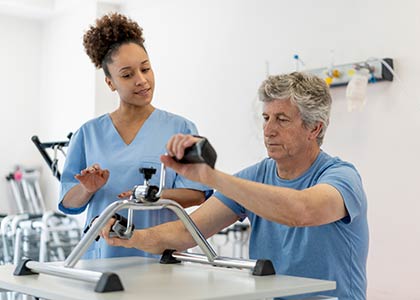 Recent Graduates
There are 17 recent graduates of this Madison College program.
Employed
83% of our recent graduates got a job in the industry.
Job Placement
92% job placement within six months of graduation.
Occupational Therapy Assistant
Program Number: 105141
Your Degree:
Associate Degree
Area of Study:
Health Sciences
Delivery Method:
Some Online/Some In Person
Estimated Time to Complete:
67 Credits | Finish degree in 2 years
Estimated Tuition
$11,318.44
$10,202.00 Tuition
$968.44 Materials/Supplemental Costs
$148.00 Other Costs
Your first step is to apply to Madison College. It's easy and free to apply, so get started today!
Contact the School of Health Sciences
Madison Truax Campus
Health Building, 103
1705 Hoffman Street
Madison, Wisconsin 53704
Hours
Monday – Thursday: 9 am - 3 pm
Friday: 9 am - 12 pm (Virtual)