You're a people person that wants to work outdoors. Learn to create beautiful landscapes and keep trees healthy.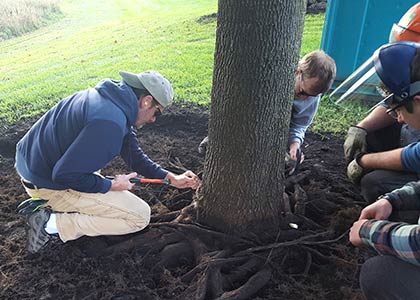 are International Society of Arboriculture Certified
Employed
100% of our recent graduates got a job in the industry.
Work Local
95% of our recent graduates work in Wisconsin.
Program Number: 310017
Your Degree:
Technical Diploma
Area of Study:
Science, Math and Natural Resources
Estimated Time to Complete:
27 Credits | Finish training in as little as 1 year (programs vary)
Estimated Tuition
$4,462.95
$3,807.00 Tuition
$655.95 Materials/Supplemental Costs
$0.00 Other Costs
Your first step is to apply to Madison College. It's easy and free to apply, so get started today!
Contact the School of Human & Protective Services
Madison Truax Campus
Protective Services Building, 100
1701 Pearson Street
Madison, Wisconsin 53704
Hours
Monday – Thursday 8 am - 5 pm
Friday: 8 am - 4:30 pm