You're a people person that wants to work outdoors. Learn to create beautiful landscapes and keep trees healthy.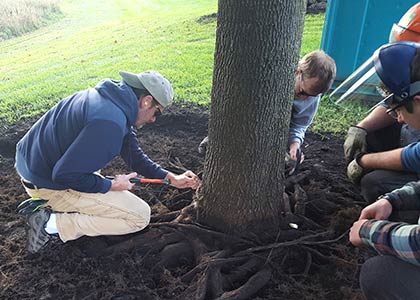 are International Society of Arboriculture Certified
Employed
100% of our recent graduates got a job in the industry.
Work Local
95% of our recent graduates work in Wisconsin.
Program Number: 310017
Your Degree:
Technical Diploma
Area of Study:
Science, Math and Natural Resources
Estimated Time to Complete:
27 Credits | Finish diploma in 1 year
Estimated Tuition
$4,732.30
$3,947.40 Tuition
$784.90 Materials/Supplemental Costs
$0.00 Other Costs
Your first step is to apply to Madison College. It's easy and free to apply, so get started today!
Contact the School of Human and Protective Services
Madison Truax Campus
Protective Services Building, 100
1701 Pearson Street
Madison, Wisconsin 53704
Hours
Monday – Thursday 8 am - 5 pm
Friday: 8 am - 4:30 pm