Do we need to draw you a picture? How about this: you draw it. We'll show you how to turn it into a really awesome job.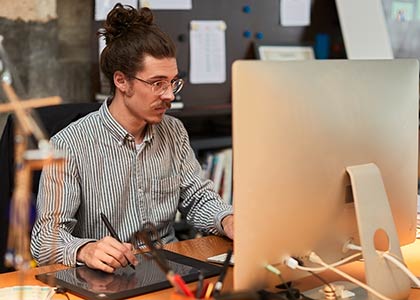 Student Satisfaction
100% of our recent graduates report they are satisfied with their Madison College education.
Job Placement
89% job placement within six months of graduation.
Program Number: 102071
Your Degree:
Associate Degree
Area of Study:
Arts, Design and Humanities
Delivery Method:
Some Online / Some In Person
Estimated Time to Complete:
64 Credits | Finish in 2 years (full-time attendance)
Estimated Tuition
$10,038.90
$9,024.00 Tuition
$1,014.90 Materials/Supplemental Costs
$0.00 Other Costs
Your first step is to apply to Madison College. It's easy and free to apply, so get started today!
Contact the School of Business and Applied Arts
Hours
Service Hours
Monday – Thursday: 8 am - 4 pm (In-Person and Virtual)
Friday: 8 am - 4 pm (Virtual Only)