Cars. You love everything about them – from driving to tinkering to keeping them running. Have we got a degree for you.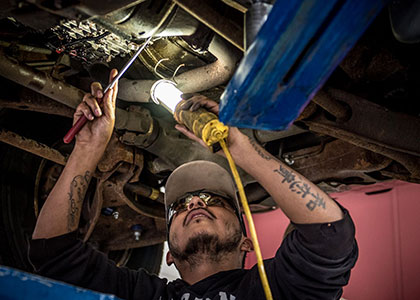 Automotive Service Excellence
Master Certified Instructors
Our instructors have over 100 years of experience in the auto industry.
Annual Salary
Our recent graduates of this program reported an average starting salary of $46,440.
Automotive Technology-Comprehensive
Program Number: 106026
Your Degree:
Associate Degree
Area of Study:
Transportation
Estimated Time to Complete:
70 Credits | Finish degree in 2 years
Estimated Tuition
$12,139.90
$10,041.50 Tuition
$2,098.40 Materials/Supplemental Costs
$0.00 Other Costs
Your first step is to apply to Madison College. It's easy and free to apply, so get started today!
Contact the School of Technologies and Trades
Hours
Monday - Thursday: 8:00 am - 4:30 pm
Friday: 8:00 am - 4:30 pm  phone or email only