Working with young children is extremely rewarding. You have the power to instill a love of learning and cooperation.
You may choose a path that allows you to specialize in a particular age group, such as infants and toddlers. The demand for qualified caregivers is high, so get ready for a lively career where you can really make a difference!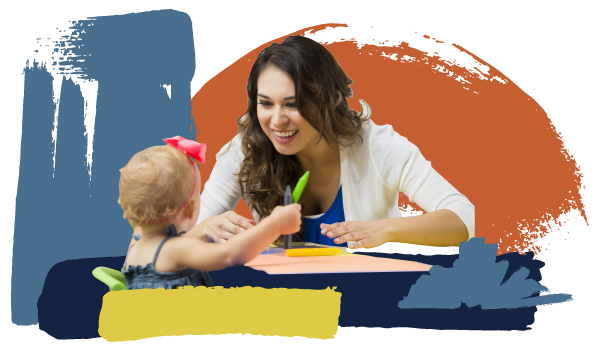 Noncredit Courses in Early Childhood Education
Do you enjoy working with children? Learn the roles and responsibilities of an assistant teacher in a day care center, such as understanding child development, daily scheduling, positive guidance, day care regulations and health practices.
#63365, Goodman South, 2/5-3/26, Saturday, 9 AM-1 PM
Thinking about opening your own daycare? Fundamentals of Family Childcare (formerly known as Family Day Care Part 1 and 2) will give you an overview of starting and operating a family daycare home business. Topics include licensing and business requirements, resources, professionalism, special issues of care for each age group, and school age care with mixed ages. You must be 18-years-old to register for this class.
#63386, Online Live, 3/23-5/14, Saturday, 12:30-3 PM
Fundamentals of Infant/Toddler Care (formerly known as Infant/Toddler) reviews child development and developmentally appropriate activities, planning environment and programs, and basic care routines and licensing requirements. Learn techniques that promote positive relationships between children and caregivers. You must be 18-years-old to register. "Fundamentals of Infant/Toddler Care ONLINE" is taught using Madison College's online Blackboard software.
#63387, Online Live, 2/27-3/27, Sunday, 12-4:15 PM
Gain the skills and strategies you need to prepare for employment or boost your skills to reach the next level as a childcare teacher. Prerequisite: Intro to Childcare Profession (formally known as Assistant Childcare Teacher).
#63385, Online Live, 2/5-3/26, Saturday, 9 AM-1 PM
Three Ways to Register for Noncredit Courses
1. Register by Phone
2. Express Registration
3. Log into MyMadisonCollege
Looking for a Career?
Gain job-ready skills to teach the youngest students of all.
100% student satisfaction
Great networking opportunities
Positive job outlook

​​​​​​​The U.S. Bureau of Labor Statistics predicts faster than average (18%) job growth for early childhood educators through 2030.
Make an impact on young lives by getting them excited to learn.