Degree in graphic design or visual communications? Ride it into the future. Learn UX, interface design, testing and more.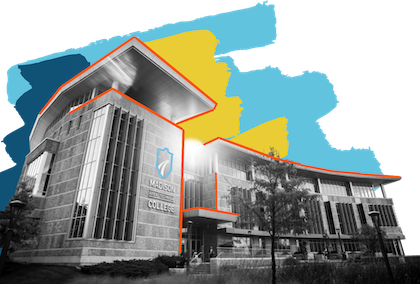 Ready to Learn More?
If you'd like to learn more about the Web & Interactive Design program, we'd love to talk with you.
We're here to answer any questions and guide you through our application process step-by-step.
Send us your contact information, and we'll help you get started right away!
Program Number: 902011CERT
Area of Study:
Arts, Design and Humanities
Delivery Method:
Some Online/Some In Person
Estimated Time to Complete:
19 Credits | Finish in 1 year
Estimated Program Cost
$3,101.10
Program Overview

The Web & Interactive Design Certificate is geared toward the student who has already earned an Associate of Applied Arts Degree in Graphic Design or Visual Communications from Madison College. Degrees in art/design or multimedia from another accredited college or university or comparable work experience will also be considered.

Throughout the certificate, you will explore a full range of web design topics and skills from planning and user experience all the way through interface design, development, implementation, and testing. 

Highlights include: 

HTML/CSS
WordPress
UX - User Experience
UI - User Interface Design
JavaScript authoring and implementation
Project Management

After completing this certificate, you may choose to work towards your associate degree in Web & Digital Media Design Associates Degree.

Program Details

Students in the Web & Interactive Design certificate program at MATC can attend full or part-time.

Web & Interactive Design certificate classes may be offered at these Madison College campuses:

Careers

When you combine Madison College's Web & Interactive Design certificate with your graphic design/visual communications degree or background, you are ready for a range of professional positions in the field of webpage design, including:

Computer Graphics
Interactive Design
Web Illustration
Web Page Design and Layout
Web Project Management

Curriculum and Experience

Prospective program students, the information below reflects the basic requirements for students admitted for the 2023-2024 academic year. To learn more about Madison College, visit us.

Current and newly admitted program students, go directly to your Degree Progress Report to view:

Progress toward your specific requirements
Alternative (in lieu of) courses to meet specific requirements

If you have questions after reviewing your degree progress report (advisement report), please see Advising Services.

First Semester

Second Semester

Admission

Earning a certificate is a great way to expand your skill set, and it adds professionalism to a resume. Applications are always open, so apply today!

To Apply

There are no admission requirements for this certificate, simply submit your application by the deadline for each term.

International students who wish to apply for, maintain, or transfer their F-1 student visa status to Madison College are required to complete the International Admission Process.

Spring Application Dates

Application open
Application completion deadline is March 15, 2024

Fall Application Dates

Application available on February 1, 2024
Application completion deadline is October 15, 2024

Additional Notes

Certificate programs are not eligible for financial aid
Class capacity is limited and is available on a first come, first served basis
Students who have already completed the certificate coursework at the time of application will receive the certificate diploma at the end of the term of application

After Acceptance

Once you are admitted into your program, review the Start of Semester Checklist to prepare for your first day of classes at Madison College. 

Questions?

Contact the Enrollment Center at EnrollmentServices@madisoncollege.edu or 608.246.6210.

Get Started!

Apply to Madison College and take the first step towards your Web & Interactive Design career.
Your first step is to apply to Madison College. It's easy and free to apply, so get started today!
Contact the School of Business and Applied Arts