Unlimited career potential while helping others. A Madison College nursing degree opens more doors than you can imagine.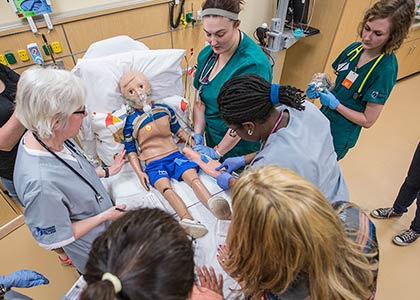 Employed
100% of our recent graduates got a job in the industry.
Student Satisfaction
93% of our recent graduates report they are satisfied with their Madison College education.
Annual Salary
Our recent graduates of this program reported an average starting salary of $62,352.
Ready to Learn More?
If you'd like to learn more about the Associate Degree Nursing (R.N.) program, we'd love to talk with you.
We're here to answer any questions and guide you through our application process step-by-step.
Send us your contact information, and we'll help you get started right away!
Associate Degree Nursing (R.N.)
Program Number: 105431
Your Degree:
Associate Degree
Area of Study:
Health Sciences
Delivery Method:
Some Online/Some In Person
Estimated Time to Complete:
65 Credits | Finish degree in 2 years
Estimated Tuition
$12,511.89
$9,324.25 Tuition
$2,894.64 Materials/Supplemental Costs
$293.00 Other Costs
Your first step is to apply to Madison College. It's easy and free to apply, so get started today!
Contact the School of Nursing
Madison Truax Campus
Health Building, 103
1705 Hoffman Street
Madison, Wisconsin 53704
Hours
Monday – Thursday: 8 am - 4:30 pm
Friday: 8 am - 4:30 pm (Virtual)