They aren't just hair and nails to you. You see all kinds of beautiful possibilities – maybe even your own business.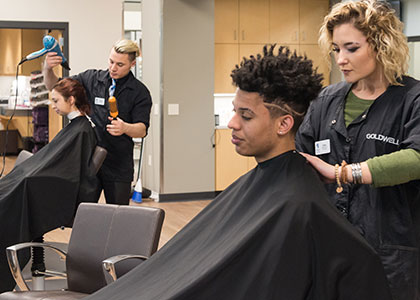 Recent Graduates
There are 10 recent graduates of this Madison College program.
Employed
100% of our recent graduates got a job in the industry.
Program Number: 315021
Your Degree:
Technical Diploma
Area of Study:
Culinary, Hospitality and Fitness
Delivery Method:
Some Online / Some In Person
Estimated Time to Complete:
49 Credits | Finish training in as little as 1 year (programs vary)
Estimated Tuition
$10,136.68
$6,909.00 Tuition
$3,227.68 Materials/Supplemental Costs
$0.00 Other Costs
Your first step is to apply to Madison College. It's easy and free to apply, so get started today!
Contact the School of Business and Applied Arts
Hours
Summer Service Hours
Monday – Wednesday: 9 am - 3 pm In-Person, 8 am - 4 pm Virtual
Thursday: 8 am - 4 pm Virtual Only
Friday: 8 am - 12 pm Virtual Only