Your main goal is to help others achieve theirs. Our main goal is to help you achieve yours. Which makes this a win-win situation.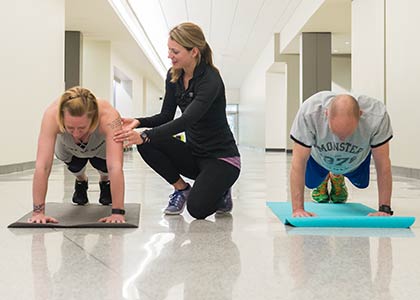 Student Satisfaction
99% of our recent graduates report they are satisfied with their Madison College education.
Learn in our new state of the art fitness studio.
Earn up to 4 Nationally Accredited certifications.
Fitness and Wellness Specialist
Program Number: 301094
Your Degree:
Technical Diploma
Area of Study:
Culinary, Hospitality and Fitness
Delivery Method:
Some Online/Some In Person
Estimated Time to Complete:
24 Credits | Finish diploma in 1 year
Estimated Tuition
$3,917.18
$3,442.80 Tuition
$474.38 Materials/Supplemental Costs
$0.00 Other Costs
Your first step is to apply to Madison College. It's easy and free to apply, so get started today!
Contact the School of Business and Applied Arts